In restaurants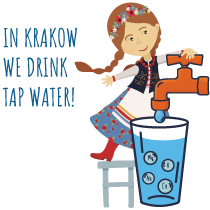 Within information campaign "In Krakow, good water straight from the tap", Krakow Water started an action "In Krakow we drink tap water".


The action is addressed to the owners of Krakow restaurants who serve the tap water to their guests and those who intend to do it. We also invite the newly formed restaurants!


Owners of the Krakow eating places serve the tap water!
Main objectives:

Tap water drinking promotion
Informing Krakow residents about the tap water properties
Caring for the environment-reduction of the plastic use
What instead?

Customer trust, because you give him a choice
Respect, because you take care for the environment and you want to reduce the plastic use
20% discount for water examination (Krakow City Central Laboratory)
Informational materials that will add coloration to your eating place